Jacques Barzun (b.1907) grew up in Paris and moved to the United States as a teenager. In 1923 he entered Columbia College and graduated four years later at the top of his class. He was a lecturer at Columbia where he became a full professor in 1945 and Dean of the Graduate Faculties  in 1955. In the following year  he appeared on the cover of Time magazine.

In 1958 he was appointed  the inaugural Dean of Faculties and Provost of the University.  In 1967 he resigned from his administrative duties and focussed on teaching and writing until his retirement in 1975. A couple of decades later, after a period of poor health, he was advised that he had several years of life ahead and this encouraged him to complete a long-running project, his last and largest book Dawn to Decadence which became a most unexpected bestseller.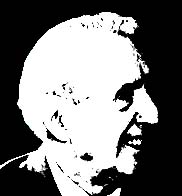 Jacques Barzun specialised in the cultural history of modern times and it is likely that few people have engaged in a more thorough and invigorating manner with the leading issues in the field. This small piece introduces some of the magisterial books that he wrote in his lifelong battle with 'hokum'. He still speaks to our condition.

"You may like to think of culture - I often do - as an enormous pumpkin, hard to penetrate, full of uncharted hollows and recesses for cultural critics to get lost in, and stuffed with seeds of uncertain contents and destiny."

The French Race (1932)

Race: A Study in Superstition (1937)

Of Human Freedom (1939)

Darwin, Marx, Wagner: Critique of a Heritage (1941)

Romanticism and the Modern Ego (1943)

Teacher in America (1945)

Berlioz and the Romantic Century (1950)

Pleasures of Music (1951)

God's Country and Mine (1954)

Music in American Life (1956)

The Energies of Art (1956)

Berlioz and His Century (1956)

The Modern Researcher (1957)

The House of Intellect (1959)

Classic, Romantic and Modern (1961)

The Delights of Detection (1961)

Science: The Glorious Entertainment (1964)

The American University: How It Runs, Where It Is Going (1968)

A Catalogue of Crime (1971, with Wendell Hertig Taylor)

On Writing, Editing, and Publishing (1971)

Clio and the Doctors (1974)

The Use and Abuse of Art (1974)

Simple and Direct: A Rhetoric for Writers (1975)

Critical Questions (1982)

A Stroll with William James (1983)

A Word or Two Before You Go: Brief Essays on Language (1986)

The Culture We Deserve (1989)

An Essay on French Verse for Readers of English Poetry (1991)

Begin Here: The Forgotten Conditions of Teaching and Learning (1991)

From Dawn to Decadence: 500 Years of Western Cultural Life (2000)

Many of these books  are available at Amazon.com

2010 conversation with Barzun.

A 1997 interview with Barzun, describing his move from New York to Texas and his work in progress.

This is a brief summary of Barzun's life and work, with an account of the main themes of  his recent opus.

Translated Works:

La Parisienne .          Henry Becque (1949)

The Epidemic .         Octave Mirbeau (1952)

Rameau's Nephew  .  Denis Diderot (1952)

Dictionary of Accepted Ideas .   Gustave Flaubert (1954)

Fantasio  .                  Alfred de Musset (1955)

New Letters of Berlioz: 1830-1868        (1954)

A Door Should Be Either Open or Shut .   Alfred de Musset (1956)

Evenings with the Orchestra .  Hector Berlioz (1956)

A Rule Is a Rule .     Georges Courteline (1960)

Figaro's Marriage .  Pierre-Augustin Caron de Beaumarchais (1961) 

ATTENTION!

BE SURE TO VISIT THE BEAUTIFUL SITE OF THE WEBMISTRESS


A Selection of BOOKS

by JACQUES BARZUN

Edited Works:

Samplings and Chronicles (1927)

The Selected Letters of Lord Byron (1953)

The Selected Writings of John Jay Chapman (1957)

Follett's Modern American Usage (1966)

Burke and Hare: The Resurrection Men (1974)