An essay by Rafe Champion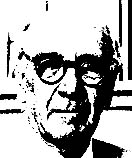 "Some modern poets have surrendered to this belief [in the difficulty of poetry] by writing not free-verse, which is legitimate, but outright prose; though as an act of appeasement to conventions which they affect to despise, they saw it unharmoniously into lengths."

The Greater Apollo: Seven Metaphysical Songs, 1927

To Meet the Sun, 1929

Moonlight Acre, 1938

Australian Literature Society Gold Medal

Heemskerck Shoals, 1949

Between Two Tides, 1952

Grace Leven Prize

This Night's Orbit, 1953

South-most Twelve, 1962

Grace Leven Prize

Forty Years Poems, 1965

Of Places and Poetry, 1976

Product: Later Verses by Robert D FitzGerald, 1977

The Sydney surveyor and poet R D Fitzgerald (1902 - 1987) played a major role in leading Australian writers out of the era of the balladeers to achieve maturity and poise in the world community of letters.  He enjoyed a long career from the roaring twenties to the swinging sixties, and during the 1930s he shared with Slessor the mantle of  "the leading poet in Australia".

The work of Robert David FitzGerald blows like a fresh wind across today, exhaling a courage and confident aspiration, a sense of wonder and mystery that are strange in a world which is bored and afraid and sorry for itself, and a poetry in which this attitude was intensified under the shadow of the early work of T S Eliot.  Fitzgerald represents in fact a life and an interest in life that wars and depression have dammed back after the upwelling of the nineties; that upwelling had found its most characteristic expression in the ballad revival in Britain and the dominions, but FitzGerald's poems have none of the qualities of the ballad, Australian or other, except vigour and an adventurous spirit.   From A History of Australian Literature by H M Green.


The various achievements of the surveyor, amateur botanist and artist who founded the line of FitzGeralds in Australia.

His dramatic trial was the subject of one of FitzGerald's long poems - The Fifth Day.

An essay that approaches the dramatic impact of fine  poetry, by one of the masters of English prose.

An account of the remarkable achievements of this important Australian inventor.

An essay against pretentiousness in poetry and a defence of the native talent for poetic speech by ordinary people.